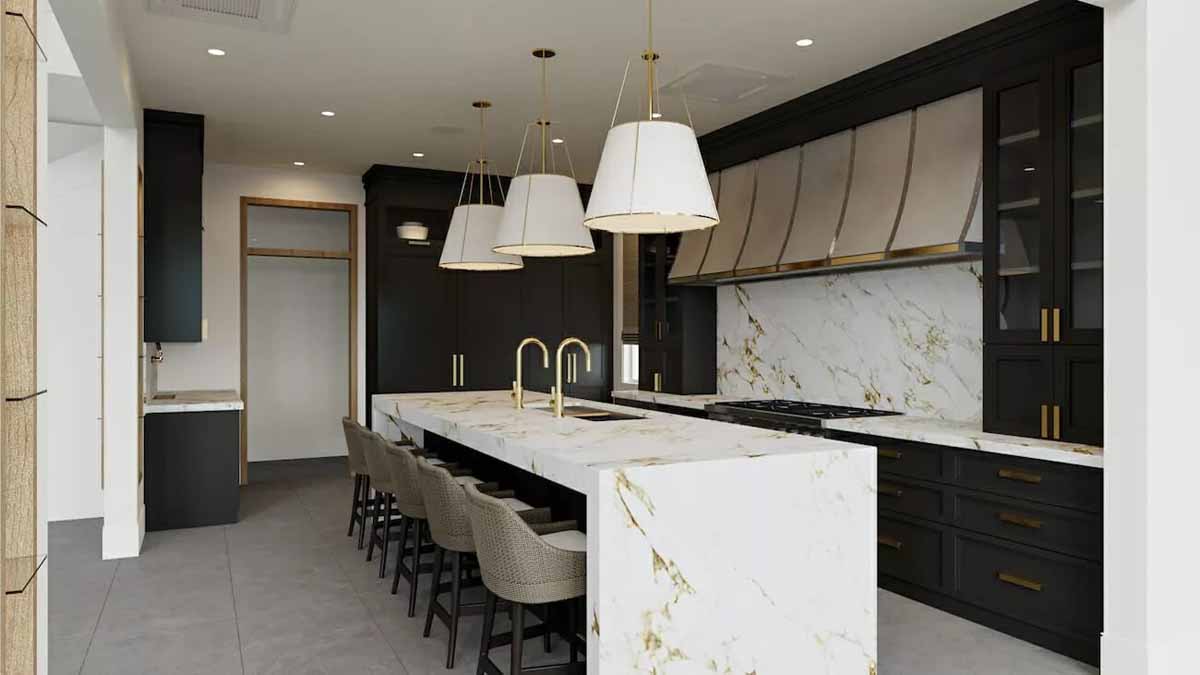 Renovating kitchens is an exciting undertaking, but it can also be incredibly stressful. You want your kitchen to suit today's trends, but you also want it to suit the trends of years ahead. After all, no one wants to be carrying out kitchen renovations more often than they need to.
Introducing Curves
In decades past, curves were a common theme throughout most homes. If you didn't see them in a kitchen, you would more than likely see them in a living room or even a bathroom. However, they have come back – and in a big way.
Rather than opt for rectangular island bars for extra bench and dining space, homeowners are choosing to add a curved end. The slight curvature allows for even more bench space as well as an exciting aesthetic appeal.
Natural Colours and Materials
Homeowners went through a phase of opting for contrasting blacks and whites. While those colours remain popular today, there is now room in the market for a new theme: natural.
Raw and matte finishes are becoming increasingly sought-after, with homeowners introducing greens, greys, and other earthy hues. They then pair them with wooden floors, nature-themed pendant lighting, and cabinetry with subtle colouring.
Glass, Glass, and More Glass
If the sticky fingermarks of small children are not a problem you regularly face, you may like to consider glass cabinetry in your kitchen. Transparent or frosted glass is fast becoming a popular way to make a kitchen stand out from the crowd.
Not only can you put items on display in glass cabinetry, but you can also see what each cupboard holds without having to rifle through all of them. For privacy, you can opt for frosted glass instead.
Unique Splashbacks
Splashbacks are an essential part of any kitchen. They protect walls and cabinetry from cooking residue, heat, and moisture. However, as functional as they are, they can also be stylish.
In the past, splashbacks were something that homeowners would try to blend into their kitchen rather than make them stand out. Now, they are a piece of art all on their own. You can purchase all manner of designs, patterns, and styles, or even create them out of tiles. The sky's the limit.
Vibrant Taps
Taps have never been something the average homeowner would pay much attention to. They were something your kitchen had to have, but the options were limited. Today, it's as hard to choose your tapware as it is to select the cabinetry you like.
You can purchase all manner of different styles and colours. Gold, brass, and black are leading the way as we navigate 2021.
Stone Benchtops
Walk into the average custom-designed home, and you'll likely see a stone benchtop. While there are many different desirable benchtop materials out there, stone is undoubtedly one that's leading the curve this year.
And for many reasons. Stone is long-lasting, to the point where it can last forever. It's also waterproof and heat-resistant. Sure, stone is also more expensive, but it's unlikely to need to be replaced any time soon.
As you start putting together plans for a new kitchen with your chosen cabinet maker, consider whether any of these trends above may be to your liking. Or, why not become a trendsetter? The options are endless for how you can create a trendy and functional kitchen.